Increasing bag filling speeds
For its Gunzgen plant in the canton of Soleure, the industrial operator Suisse Patiswiss wanted to automate its icing sugar feed into an EPC 60 contained weigher bagger.
The raw materials are stored in big bags
The sugar is packed in one tonne big bags.
After grinding, a buffer hopper receives the sugar before its transfer to the bagger
At the outlet of a buffer batch equipped with an agitator, located under a sugar grinder, Patiswiss installed a 6-metre flexible auger conveyor to transfer the raw materials to an EPC 60 contained weigher bagger. "Up to now, this operation has been performed manually," explains Mathieu Schmitt, an employee working in the R&D Department. "This automation has enabled us to achieve bag filling speeds of 20 kilos per minute, which constitutes a productivity increase of 30%. "
Another benefit to the Swiss operator: conveying in a closed circuit prevents any dispersal of icing sugar within the workshop. "We increase working comfort for the operators, but also save time on cleaning. The quick release system, combined with total rear emptying, facilitates coil maintenance. "
Convinced of the competitive advantage offered by the technology developed by Apia Technologie, Patiswiss is already planning ahead for a feed to the bagger via a secondary line dedicated to pastry mixes. "The technical installations, the electrical connections in particular, have already been completed for receiving a second flexible auger conveyor. "
March 22, 2021 by :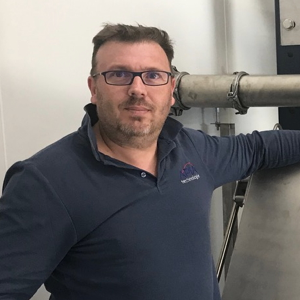 Hermann TESSIER
Sales engineer
Talk to an expert
Do you have a project to optimize your industrial lines? Take advantage of the experience of APIA Technologie teams specializing in the food industry.
Request a callback
Visit us on