Ensuring operator safety and meeting food standards
Based in Perpignan, the Cémoi group chose to equip its new factory in Abidjan, Côte d'Ivoire, with raw material and finished product conveying installations that were compatible with a complex and humid environment.
The raw materials are stored in sacks and big bags
The sugar and cocoa are packaged in 25 kg sacks. While breakfast mixes are stored in one-tonne big bags.
Everything is transferred in a closed circuit for protection against the tropical conditions.
In 2016, the Cémoi group built its first chocolate and chocolate products production plant in Africa, in Abidjan in Côte d'Ivoire. 'This unit was intended to be the showcase for our know-how,' explains the head of the technical division. 'It was essential that it meet European food quality and safety standards. We had already been working with Apia Technologie for our Perpignan site. It was obvious that we should use this supplier to support us over there.'
The first project involved feeding a churning kneader with sugar and milk powder. A 3-metre auger conveyor carries the products in a closed circuit from a sack emptying station, limiting the effects of humidity. 'This complex environment was very well understood by the Apia teams who were able to tailor their proposals. Air humidity is very high in Côte d'Ivoire and in spite of this we have had no line stoppages.'
The second project was to feed a breakfast mix packaging line from a big bag emptying station. A switching mechanism at the outlet of the 5-metre transfer auger conveyor makes it possible to feed either a vertical bagger or a box packing line. 'Working in a closed-circuit limits dust accumulation in the workshop. Furthermore, when we want to stop the line for cleaning, this step is relatively easy thanks to the coils' quick release system.'
January 18, 2023 by :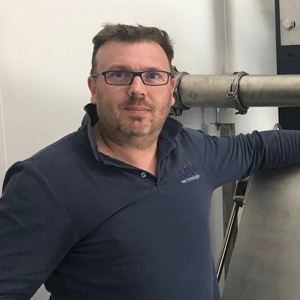 Hermann TESSIER
Sales engineer
Talk to an expert
Do you have a project to optimize your industrial lines? Take advantage of the experience of APIA Technologie teams specializing in the food industry.
Request a callback
Visit us on