Modernisation of a cookies manufacturing workshop to reduce ergonomic strain and increase productivity
The biscuit manufacturer Filet Bleu, a subsidiary of the Mousquetaires (Intermarché) group, based in Saint-Evarzec (29), wanted to automate its feed of flour and sugar to a VMI kneader.
The raw materials are stored in silos
The flour and sugar are stored in silos.
Flexible mechanical transfer replaces the manual emptying of sacks
As part of the modernisation of a cookie manufacturing line, the biscuit manufacturer Filet Bleu has acquired two flexible auger conveyors to automatically feed flour and sugar to a VMI kneader. 'This step used to be performed manually,' explains the technical procurement manager. 'For an operator, that could represent the emptying of almost 200 20-kilo sacks a day. It was becoming essential to reduce this ergonomic strain.'
Of a unit length of 18 metres each, the coils now supply the kneader from existing storage silos. 'In addition to improved ergonomics on the station and increased productivity, we have made undoubted savings on purchases of raw materials. '
The transfer is via a weighed hopper, supplied by Apia Technologie, which guarantees delivery of the precise quantities required according to the type of recipe. 'This was an important point for this first collaboration. We also welcomed the option offered by Apia of conducting tests at the Le Rheu test station. That facilitated our decision-making enormously.'
January 18, 2023 by :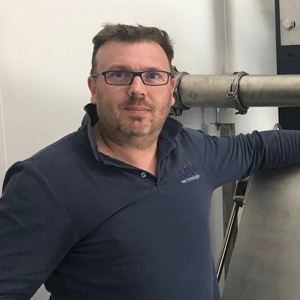 Hermann TESSIER
Sales engineer
Talk to an expert
Do you have a project to optimize your industrial lines? Take advantage of the experience of APIA Technologie teams specializing in the food industry.
REQUEST A CALLBACK
Visit us on